Girls Girls Girls Mural Project
About the Project
Emily Herr is painting murals that claim public visual space for inclusive, realistic, positive representation of womxn.
Womxn in ads and art are more often than not simplified into a single type of person representing 'women', or into something that's more object than human. I want to normalize and celebrate images of womxn in a broad spectrum of bodies and lifestyles. I also want to reduce the general female shame in simply taking up space.
Click here to learn more about the first Girls! Girls! Girls! mural, painted on a Richmond garage in February 2017.
Submit a GIRL!
Think of a real, human lady-person you know

Get a picture of her doing her thing

Tell us why she's rad as heck (and what city she lives in!)

How to submit:
Email to emily@herrsuite.com
OR

Tag or DM @herrsuite or @girlsgirlstour on insta

Many will enter, all will win: My goal is to draw all the people submitted - follow on instagram to see when your submission pops up!
Priority given to underrepresented bodies and lifestyles.
Pictures do not have to be professional or even "good"! Show us this person in action, in their natural habitat, in the zone - not on class picture day.
Help us paint mural monuments to everyday womxn! >>>>
2017 Mural Tour - completed!
Richmond, Va ---> Burlington, Vt
In Richmond, we are painting a series of mini-murals of individual ladies all around town, to build momentum for taking this show on the road!
Leaving July 15th, we'll set out in the HerrSuite mobile studio to drive up the east coast, painting as many more walls as we can along the way.
Know a wall between VA and VT that needs a G!G!G! mural? Get in touch!
In Burlington, we will paint a second iteration of the first G!G!G! mural on Battery Street Jeans, a thrift shop catering to diverse body shapes and genders. This mural will featuring many women all together, all people who live in the area.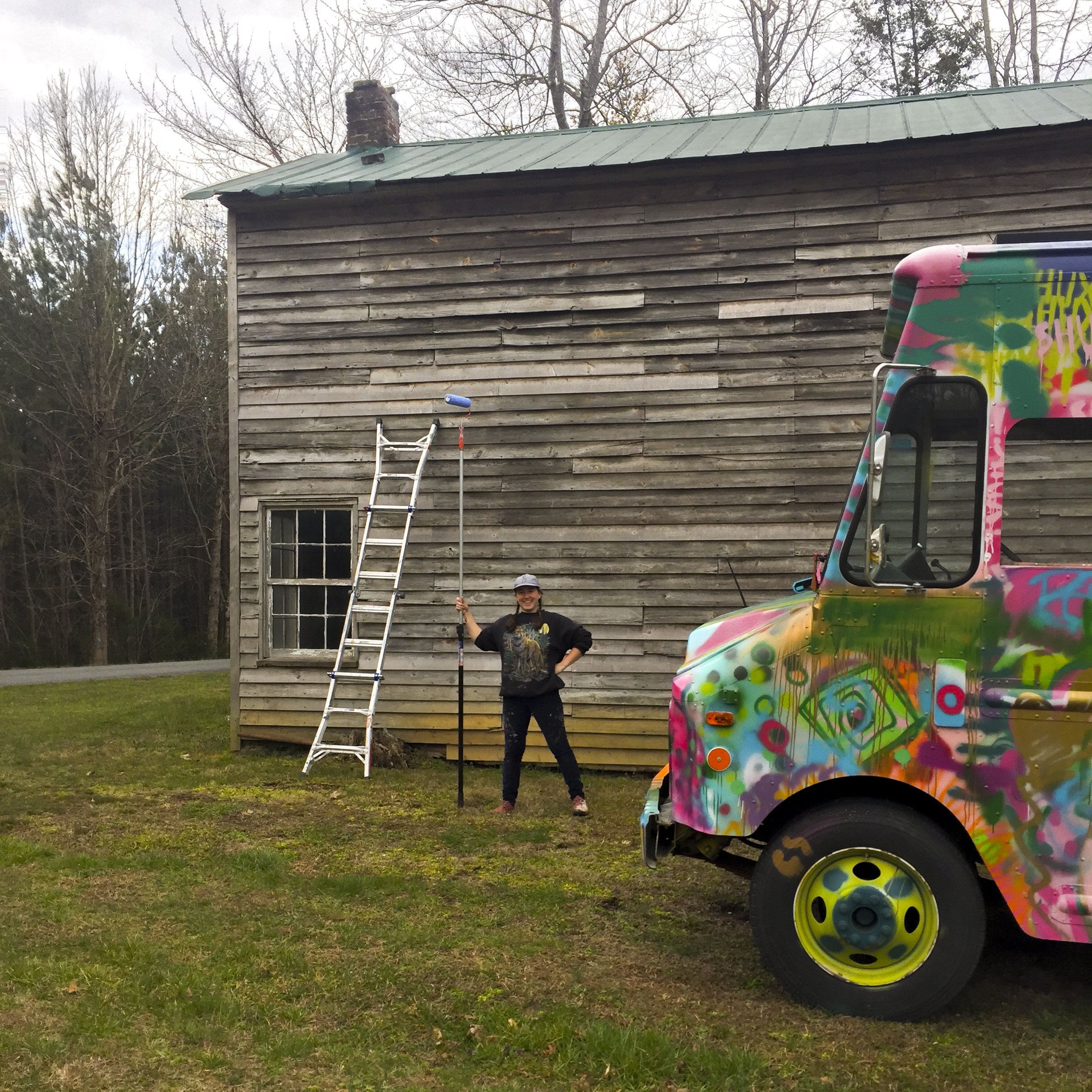 My name is Emily Herr, and I'm a muralist based in Richmond, VA. I work out of a step van that I've converted into a one-of-a-kind Mobile Mural Studio. This July, I'm going to embark with my friend and assistant Sarah Apple in this rolling studio on an epic Girls!Girls!Girls!-themed mural painting tour up the east coast, from Virginia to Vermont.
My goal is to create a public mural series that visually celebrates women as complex human beings, in contrast to the ubiquitous public imagery that flattens us into simple objects.
The spark for this trip is my awe of the Women's March and my frustration with poor representation of women in media, combined with a love of adventure and travel.
Cut Cut uses commercial printmaking processes to create engaging, personal, and site -specific products and displays.
They provided the wonderful shirts and stickers for the tour - Thank you!
Invaluable Support and Help and Patience!