Chesapeake Bank commissioned this mural to beautify the construction site for their first Richmond branch. Designed specifically for the site, the mural runs the full length of the block, capping the corners with detailed portraits of iconic local buildings and sights.
To create these portraits, I started by walking around to many local businesses in the Westhampton shopping area (Grove Ave, Libbie Rd, Patterson Ave) and asking people what they thought of as iconic to their community - which people, buildings, fixtures, events, and etc characterize the area? Many people were somewhat bemused - though they'd lived and worked in the area for a long time, they didn't see their surroundings as "iconic". Nevertheless I ended up with a long list of businesses that had been there for 20, 30, and 40 years, repeated imagery like the streetlights, and groups of people like joggers and shoppers. (Many subjects were mentioned over and over by those same bemused people - hopefully these images act as a mirror for them to see the lovely character of their neighborhood!)
Scroll for more details about different parts of the installation.
Size: Twenty-four 4'x4' MDO panels, bolted along a 150' fence
Location: 5501 Patterson Ave. 23226
8 Neighborhood Portrait Panels
Each panel has details and hidden gems that locals may recognize such as:
Every building, even the partial houses, is based off of a real structure from the neighborhood.
The movies at the theater are classics that were actually shown there.
Many of the figures are based on models from some of the local clothing boutiques.
The head of the new branch is pictured in one of the movie posters.
Two panels feature ducks as a nod to the bank's logo, and two others feature the new bank building based on architectural renderings.
All businesses with signage are long-standing and locally-owned, staying true to the bank's focus on local economy.
All of these panels were drawn freehand, except for the bank logos which were projected and traced.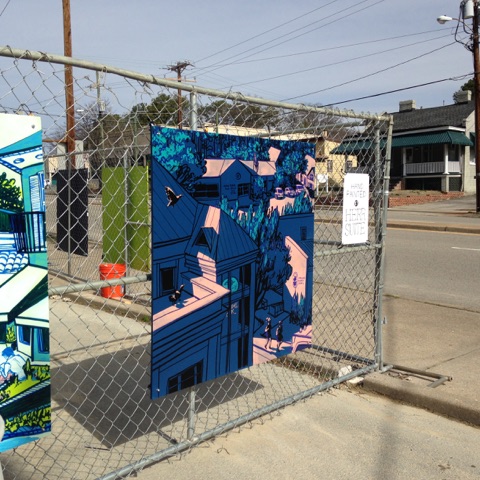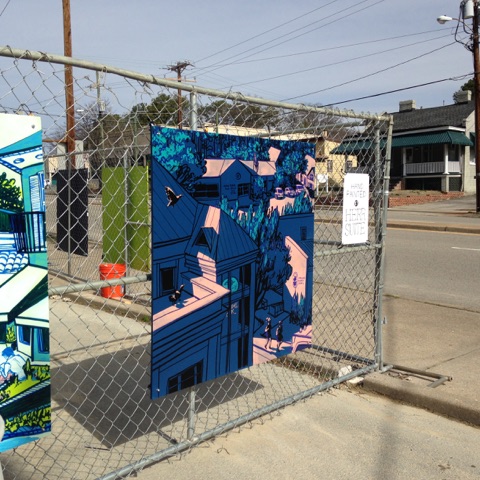 Each portrait panel went through the process above:
list of buildings to include
compositional sketch based on memory, google street view, and photos
digital overlay of the sketch to choose a panel color
base-coat color and drawing in marker on the panel
photograph that panel to.....
.....get it back in the computer where I flattened it and corrected some problems for the...
....digital color study
actual painting! This had some back and forth from marker to paint to marker, etc.
My goal here was to emulate the screen-printing thought process of simple, flat layers of color and line without actually using screens.
The style of these panels was experimental for me, and heavily influenced by the screen-printing work of my very talented friend, Eleanor Doughty, so if you love this go check out her stuff.